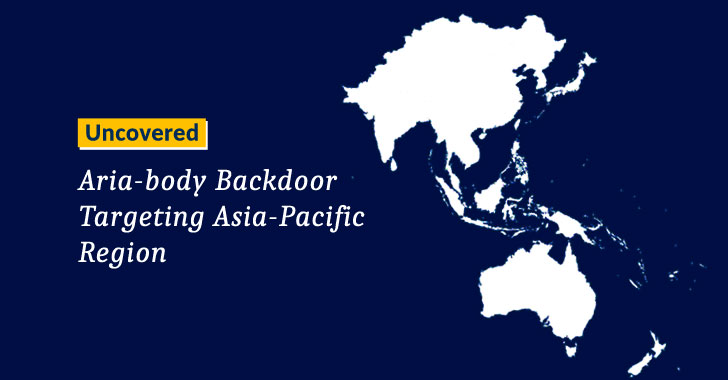 An advanced group of Chinese hackers has recently been spotted to be behind a sustained cyber espionage campaign targeting government entities in Australia, Indonesia, Philippines, Vietnam, Thailand, Myanmar, and Brunei—which went undetected for at least five years and is still an ongoing threat.
The group, named 'Naikon APT,' once known as one of the most active APTs in Asia until 2015, carried out a string of cyberattacks in the Asia-Pacific (APAC) region in search of geopolitical intelligence.
According to the latest investigation report Check Point researchers shared with The Hacker News, the Naikon APT group had not gone silent for the last 5 years, as initially suspected; instead, it was using a new backdoor, called "
Aria-body
," to operate stealthily.
"Given the characteristics of the victims and capabilities presented by the group, it is evident that the group's purpose is to gather intelligence and spy on the countries whose governments it has targeted," the researchers said.
In brief, the Aria-body backdoor is being used to take control of the internal networks of a targeted organization, in addition to mounting attacks from an already breached company to infect another.
"This includes not only locating and collecting specific documents from infected computers and networks within government departments, but also extracting removable data drives, taking screenshots and keylogging, and of course, harvesting the stolen data for espionage."
A Geo-Political Intelligence Campaign
First
documented
in 2015, the Naikon APT group uses crafted email lures as an initial attack vector against top-level government agencies and civil and military organizations, which, when opened, installed spyware that exfiltrated sensitive documents to remote command-and-control (C2) servers.
Although no new signs of activity have been reported since then, Check Point's latest research casts its operations in a fresh light.
"Naikon attempted to attack one of our customers by impersonating a foreign government – that's when they came back onto our radar after a five-year absence, and we decided to investigate further," Lotem Finkelsteen, manager of threat intelligence at Check Point, said.
Not only were multiple infection chains employed to deliver the Aria-body backdoor, but the malicious emails also contained an RTF file (named "The Indians Way.doc") that was infected with an exploit builder called RoyalBlood, which dropped a loader (intel.wll) in the system's Microsoft Word startup folder ("%APPDATA%\Microsoft\Word\STARTUP").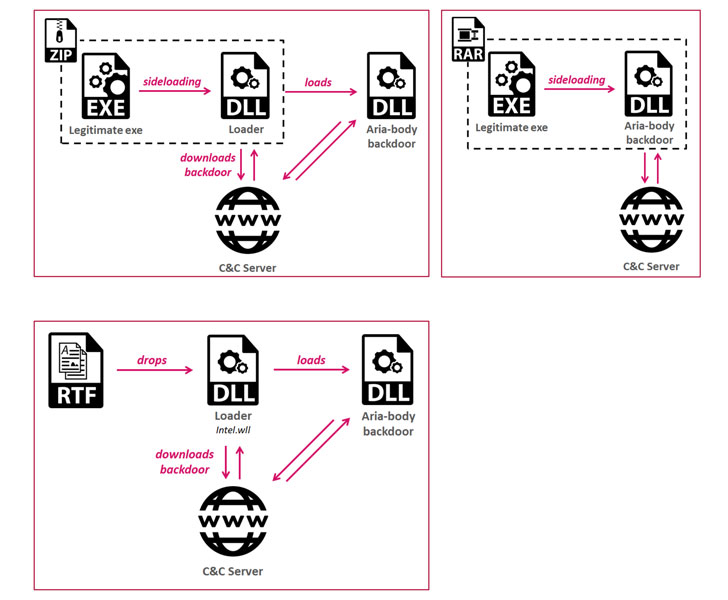 RoyalBlood
is an RTF weaponizer shared mostly among Chinese threat actors. It's worth noting that a similar modus operandi has been linked to a campaign against Mongolian government agencies, called
Vicious Panda
, that was found exploiting the ongoing coronavirus outbreak to plant malware via social engineering tricks.
In a separate infection mechanism, archive files were packaged with a legitimate executable (such as Outlook and Avast Proxy) and a malicious library to drop the loader on the target system.
Regardless of the method to gain an initial foothold, the loader then established a connection with a C2 server to download the next-stage Aria-body backdoor payload.
"After getting the C&C domain, the loader contacts it to download the next and final stage of the infection chain," the researchers noted. "Although it sounds simple, the attackers operate the C&C server in a limited daily window, going online only for a few hours each day, making it harder to gain access to the advanced parts of the infection chain."
T
he Aria-body RAT, named so based on the name "aria-body-dllX86.dll" given by the malware authors, has all the features you'd expect from a typical backdoor: create and delete files and directories, take screenshots, search for files, gather file metadata, collect system and location information, among others.
Some recent variations of Aria-body also come equipped with capabilities to capture keystrokes, and even load other extensions, per researchers, suggesting the backdoor is under active development.
Aside from exfiltrating all the gathered data to the C2 server, the backdoor listens for any additional commands to be executed.
Further analysis of the C2 infrastructure found that several domains were used for long stretches of time, with the same IP address reused with more than one domain.
Taking their evasion tactics to the next level, the adversary compromised and used servers within the infected ministries as C2 servers to launch attacks, and relay and route the stolen data, rather than risk detection when accessing the remote servers.
Ties to Naikon APT
Check Point said it attributed the campaign to the Naikon APT based on code similarities in Aria-body and the espionage tool
detailed by Kaspersky
(called "XSControl") in 2015, as well as in the use of C2 domains (mopo3[.]net) that resolve to the same IP address as the domains mentioned by the latter (myanmartech.vicp[.]net).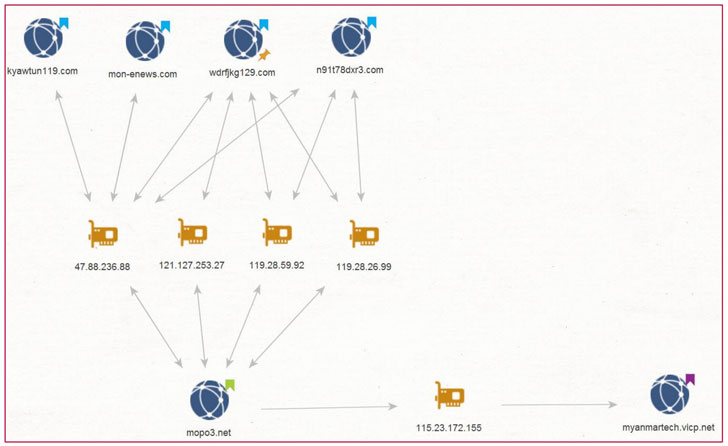 "While the Naikon APT group has kept under the radar for the past 5 years, it appears that they have not been idle," Check Point concluded. "In fact, quite the opposite. By utilizing new server infrastructure, ever-changing loader variants, in-memory fileless loading, as well as a new backdoor — the Naikon APT group was able to prevent analysts from tracing their activity back to them."